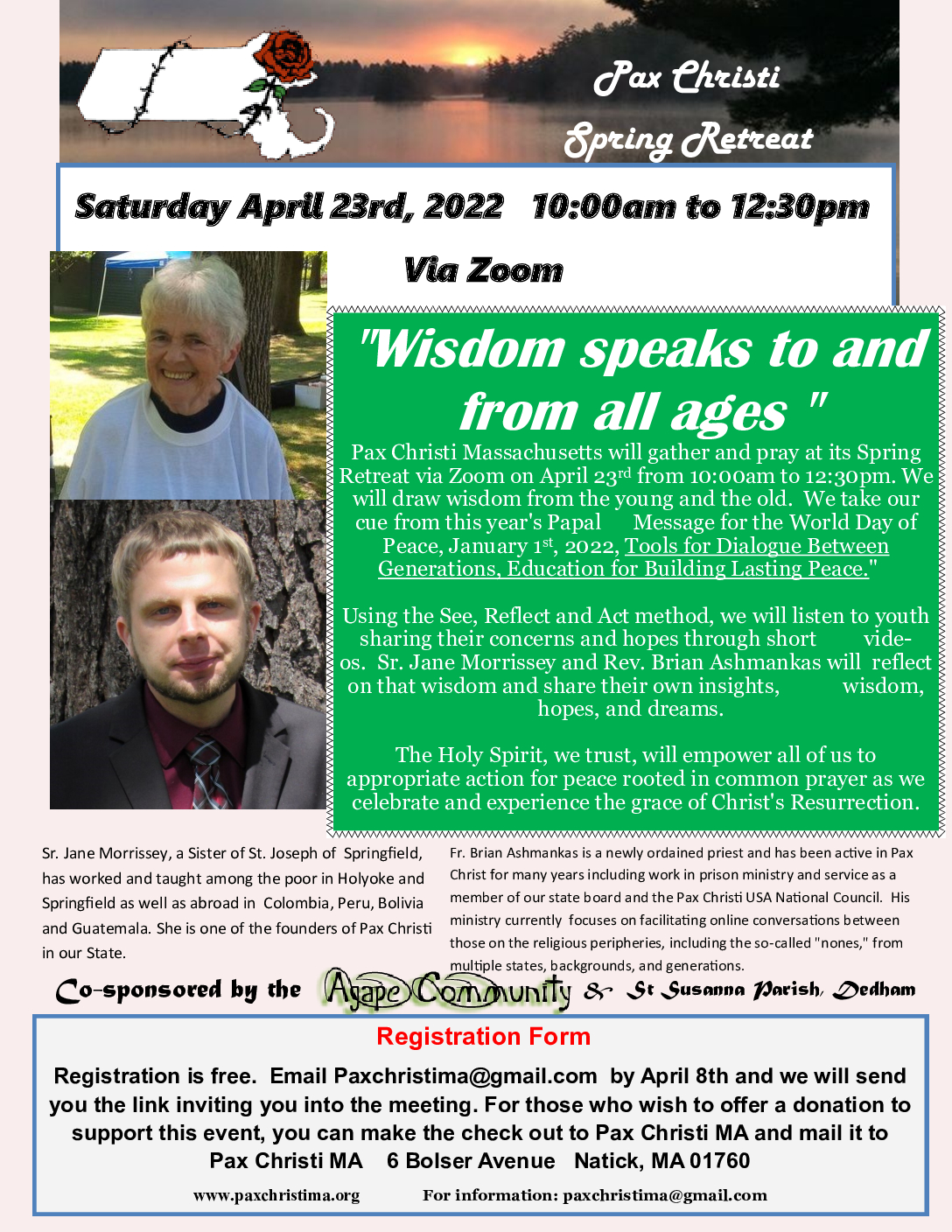 Saturday April 23rd, 2022 10:00am to 12:30pm
Via Zoom
Pax Christi Massachusetts will gather and pray at its Spring Retreat via Zoom on April 23rd from 10:00am to 12:30pm. We will draw wisdom from the young and the old. We take our cue from this year's Papal Message for the World Day of Peace, January 1st, 2022, Tools for Dialogue Between Generations, Education for Building Lasting Peace." Using the See, Reflect and Act method, we will listen to youth sharing their concerns and hopes through short videos.
Sr. Jane Morrissey and Rev. Brian Ashmankas will reflect on that wisdom and share their own insights, wisdom, hopes, and dreams.  The Holy Spirit, we trust, will empower all of us to appropriate action for peace rooted in common prayer as we celebrate and experience the grace of Christ's Resurrection.
Registration is free. Email [email protected] by April 8th and we will sendyou the link inviting you into the meeting. For those who   wish to offer a donation to support this event, you can make the check out to Pax Christi MA and mail it to Pax Christi MA 6 Bolser Avenue, Natick, MA 01760.  For information: [email protected]
Sr. Jane Morrissey, a Sister of St. Joseph of Springfield, has worked and taught among the poor in Holyoke and Springfield as well as abroad in Colom bia, Peru, Bolivia and Guatemala. She is one of the founders of Pax Christi in our State.
Fr. Brian Ashmankas is a newly ordained priest and has been active in Pax Christ for many years including work in prison ministry and service as a member of our state board and the Pax Christi USA National Council. His ministry currently focuses on facilitating online conversations between those on the religious peripheries, including the so-called "nones," from multiple states, backgrounds, and generations.
Co-sponsored by the Agape Community and St. Susanna Parish, Dedham
https://paxchristima.org/wp-content/uploads/2022/02/Spring-2022-poster-1-pdf.jpg
1408
1088
Linda
https://paxchristima.org/wp-content/uploads/2016/10/paxchristi_logo-1.png
Linda
2022-02-25 00:47:29
2022-03-11 23:34:36
"Wisdom Speaks to and from All Ages" – Pax Christi MA spring retreat with Sr. Jane and Fr. Brian